Robèrt is Meester Patissier en Meester Boulanger en maakt samen met zijn team dagelijks de lekkerste taarten, gebakjes en broden. Hij groeide op in de bakkerij van zijn vader en opa, volgde een bakkersopleiding en nam het familiebedrijf over. Inmiddels kun je naast de open bakkerij ook een bezoek brengen aan de winkel en het restaurant, de (banket)bakkers aan het werk zien en kun je verschillende brood-en patisseriecursussen volgen. Ook komt hij regelmatige in de media om het bakkersvak te promoten. Je kunt Robèrt onder andere kennen als jurylid van Heel Holland Bakt en CupCakeCup.
"Ik zeg: Heb een passie en werk die passie uit. Vertel wat je doet. Heb het er over met andere mensen. Dan komen er ideeën uit andere hoeken."
Meester Patissier en Meester Boulanger bij Bij Robèrt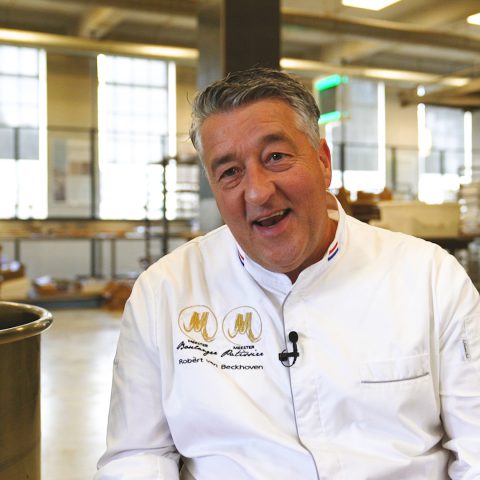 Is het ontwerpen van het lekkerste brood, best verfijnde gebak of meest fantastische chocoladewerken helemaal jouw ding? Check dan deze tips!
Robèrt daagt je uit: Kun jij de ultieme reep bedenken, die gezond en lekker is en die iedereen kan eten?
De reep moet houdbaar zijn, er lekker uitzien en je moet het als tussendoortje makkelijk mee kunnen nemen. De reep moet glutenvrij en veganistisch zijn. Bedenk een naam, ingrediënten en recept en hoe hij eruit ziet. Bedenk ook hoe je dit product presenteert: laat de reep zien in beeld, of maak de reep écht zodat je kunt proeven.