Joep Janssen ontwerpt als verpakkingsdesigner verpakkingen, van concept tot het in de winkel ligt. Daarbij is het belangrijk om de boodschap van een merk visueel over te brengen. De vormgeving van de verpakking moet een product meer waarde geven. Het was Joep's droom om bij een ontwerpbureau te gaan werken, maar hij werd nergens toegelaten. Via zijn stages is het uiteindelijk toch gelukt. Hij heeft Reclame en Presentatietechnieken gestudeerd en daarna de opleiding Grafische Vormgeving gedaan. Hij is daar afgestudeerd op de specialisatie Merken en Verpakkingen. Hij kon na zijn opleiding direct aan de slag bij zijn stageplaats Proud Design, waar hij nog steeds werkt.
"Je moet als verpakkingsdesigner goed in de gaten houden dat je de consument niet voor de gek houdt."
Senior verpakkingsdesigner bij PROUDdesign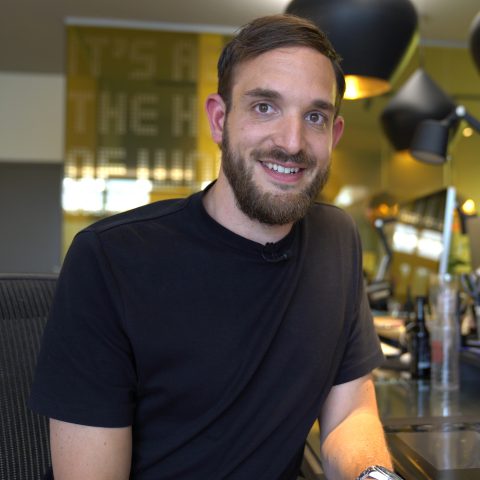 We helpen je graag een beetje op weg met wat gave tips en inspiratie.
Bij het bedenken van jouw nieuwste verpakkingsontwerp is Templatemaker.nl de gouden tip! Voor bijna iedere vorm vind je er precies het juiste template. Hartvormige doosjes, melkpakken, doosjes mét of zonder deksel. Kies een vorm, voer jouw gewenste afmetingen in en download een pdf met jouw template op maat.
Ontwerp een verpakking voor de eerste kweekvlees-hamburger van het snackmerk Mora.
Het merk Mora weet van de discussie over het effect van vlees op het milieu. Kweekvlees is misschien een oplossing voor dit probleem.

Hoe zou jij deze boodschap op een verpakking communiceren aan de (wantrouwende) consument? Onderzoek de merkstijl van Mora (logo, typografie, kleurgebruik, fotografie). Doelgroep: de millennial tussen 25 en 45 jaar. Maak een moodboard en werk die eventueel uit tot 2D of 3D-schetsen. Bedenk ook een naam voor de kweekvlees-hamburger.
  
Meer info over kweekvlees? Bekijk dan deze documentaire van Tegenlicht.