Mirl van Hoek werkt als Concept Designer voor Hema. Ze ontwerpt voor de afdeling Cooking, Eating and Essentails. Op deze afdeling ontwerpen teams o.a. bestek, servies en inpakpapier. Als ontwerper is ze altijd bezig met het opdoen van inspiratie: kijken wat er om haar heen gebeurt, maar ook praten met mensen op straat. Die informatie verzamelt ze om met haar team te bepalen hoe een product er uit moet gaan zien. Haar ontwerpen stemt ze altijd af op de optimistische en gebruiksvriendelijke Hema-visie. Een product is voor haar helemaal geslaagd als het elke dag een glimlach op je gezicht tovert. Ze heeft Men & Activity gestudeerd aan de Design Academy Eindhoven.
"Bijna iedereen is klant van HEMA, dat maakt het werk extra leuk. Het is ook de grootste uitdaging in mijn werk, want de producten die ik ontwerp, moeten voor iedereen geschikt zijn."
Concept Designer Cooking, Eating & Celebration, HEMA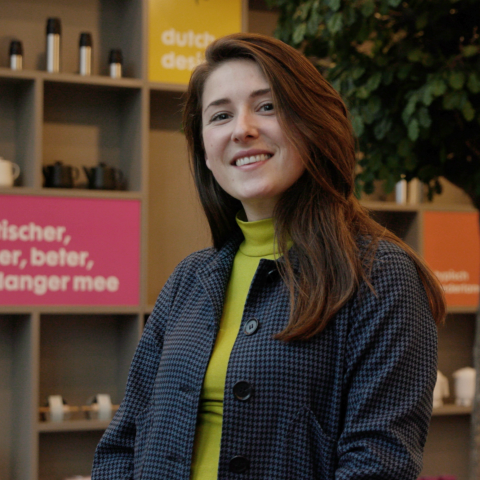 Je kijkt hier naar een ontwerp van Mirl. 
Ontwerp het ultieme eetproduct voor onderweg. Laat je inspireren door het verhaal van Mirl en de visie van Hema. Wat móet er terugkomen in jouw product? De tool hieronder geeft alvast wat suggesties. Bedenk een nieuw ontwerp, vertel jouw idee, teken / schrijf het uit of maak een prototype. 
💌
voor een diner voor twee