Fleurine Brouwer is zelfstandig lingerieontwerper. Ze werkt voor verschillende merken. Ze volgde de opleiding Allround Styling aan Academie Artemis. Na haar studie is de gaan werken bij Hunkemöller, waar ze eerst stage liep. Na een aantal jaar is ze voor zichzelf begonnen, omdat ze afwisseling in haar werk miste. Ze is nu ook bezig met het opzetten van een eigen loungemerk voor mannen. Sinds Fleurine als zelfstandig ondernemer werkt houdt ze zich meer bezig met nieuwe ontwikkelingen. Ze vindt haar inspiratie op social media, in winkels en gaat naar tentoonstellingen waar ze ideeën en kennis opdoet.
"Lingerie is heel persoonlijk en tegelijkertijd technisch een heel ingewikkeld product."
Lingerieontwerper, Fleurine Design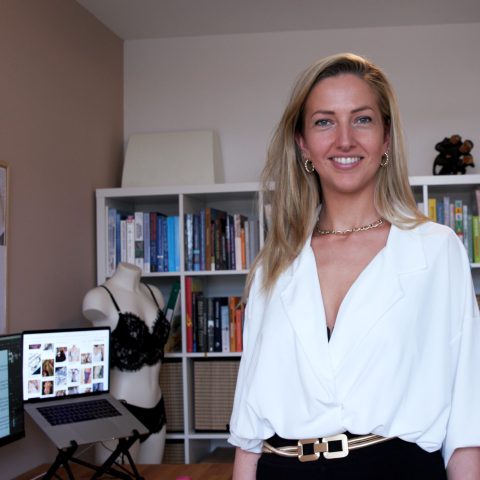 Je kijkt hier naar een ontwerp van Fleurine. 
Hieronder kun je meer zien, horen en lezen over lingerie.
Dit boek ligt op Fleurine's werktafel. Het is gemaakt door blogger Cora Harrington, eigenaar en maker van The Lingerie Addict. 's Werelds grootste lingerieblog en één van de weinige modeblogs die alleen over lingerie gaan. Het is een online archief waar je eindeloos kan scrollen voor inspiratie. Je kan Cora volgen op Twitter Instagram, Pinterest en YouTube.
Vind je het leuk om zelf aan de slag te gaan? We hebben een ontwerp-uitdaging voor je: Stap in de rol van een lingerieontwerper en ontwerp een genderneutrale slip. Tap op de knop tot je een leuke combi van voorwaarden hebt gevonden en ga de uitdaging aan. 
Hoe maak je de onderbroek draagbaar en aantrekkelijk voor iedereen? Waar houd je rekening mee qua model en pasvorm? Bedenk een nieuw ontwerp, vertel het aan elkaar, teken het uit of maak een prototype en geef uitleg over wat je hebt gemaakt.